Rick's Farm Service & Installation is in business to meet farmers' needs in servicing and rebuilding farm equipment.
We are authorized dealers for:
---

---

We have buit a solid reputation over the years ensuring that our clients' operations run trouble free.
We also sell and repair the following parts and equipment by these leading manufacturers:

---

Please browse our web site, better yet, call us today for a free quote
(519)338-5693
Our Featured Product
Rissler Spiro Mixer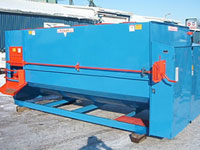 Ensures thorough end to end mixing with no dead spots.
Small square bales can be thrown in.
Mixing time without hay is 3 - 5 mins and with hay is 5 - 8 mins.
Also available in a trailer style.